Shannon- Thank you for such a wonderful 'Thank you'! I was soooo surprised, when I opened my mailbox... You made my day :-)
See, I'm using those adorable stamps already!
++++++++++
BigBro turned four and we had a big birthday celebration last Saturday. His birthday was a big hit! Literally, I suppose. We had a blue convertible-car-shaped pinata. All the kids had several big whacks and the thing just wouldn't break open. Finally, an adult had to take a couple swings at it and then, candy and toys dumped out. We also had a
great magician
! He entertained adults and kids alike. I'm so glad that we had nice weather, because we were able to play outside too. It took a while to recover from the festivities - I finally finished cleaning our house yesterday. (pictures coming soon)
++++++++++
I finally picked six photos out of the 100+ pictures of Owen (our NILMDTS photographer was Denyce at Something Blue Photography) to order. They came in quickly and I just picked up the frames and mats. I think we'll hang them this weekend.
++++++++++
It's so odd. The waves of grief. The last two weeks have been so much better than the previous two. Sometimes I understand and other times I can't find the reason why.
++++++++++
On to, my next 'project'... Another phase of our house. We have lived in this house for about a year and a half and we have done quite a bit to make it 'ours'. And, yet there is still so much more to do! If it'll give you any hint at all - we lived in our
last house
for nine years. Over that time, we slowly did things to make it 'ours'. When I look back at it, I'd say we did
everything
to that house. You name it, we re-did it.
Most of my friends are not really 'into' design, so - this is just me, keeping busy with something I like. I've added a different links list - 'design links'. I know Heather will enjoy them. (In case you didn't know - I don't really watch TV, but have to admit, I love
Candice Olson
.)
Currently, in my living room is an area rug. Yep, that's it. A few accessories we brought over from our old house on the shelves, but no furniture. It's a patchwork hair-on cow hide rug that I bought
here
. If you think you might want one, I have only one piece of advice - these are best for 'pet free' homes. I just can't keep our dog from laying on it. I think it's the smell.
So, here's what is coming
Some curtains that I won't be able to post a picture of until they arrive. They'll be on rods with neato square finials...
Oooohh - and this sumptuous settee will be coming soon too.
Then, there's our dining room... Oddly, it's actually much closer to being complete. For starters, here's the rug.
Here's the
chandelier
My dining room table and chairs are no longer manufactured and I only have a picture of the set in my old house. After everything's put together, I'll take a picture of the finished room (it'll be at least six weeks).
These are pictures from the manufacturer's website, so these pieces are still in their product offering, but also in my current dining room are
this
sideboard
(ack! I wish Blogger would let me resize the image!)
and this
buffet
(just the bottom part - I didn't want a china hutch)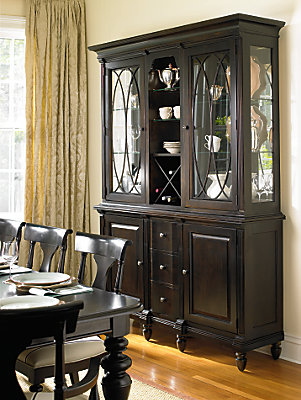 And, currently on order are some other curtains that I can't show you a picture of (until they arrive) and the same rods w/ neat-o square finials (same as the living room above) and a really great
floor mirror
.
more design stuff later, after I've pieced together more...